Stand with Ukraine. Save peace in the world!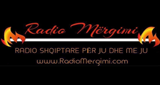 Radio Mergimi
Radio Mergimi u degjua per her te par me datë 28/Nentore/2008 dhe hapi dyert per çdo njeri qe flet gjuhen shqipe,per çdo njeri qe ndjehet i vetmuar,sepse njeriu i vetmuar eshte gjysem i vdekur,andaj kemi pare te arsyeshme ta kem nje radio te till siq eshte radiomergimi,ku se bashku arritem ta ndajm si gezimin ashtu edhe hidherimin me emisione të ndryshme siq eshte emsioni "Brenga Jete"qe transmetohet LIVE gjdo te shtune!
Show more
Radio Mergimi reviews
Ka volum te mir e toni bass te mjaftushem

Es una pasada de programa Radio mergimi. ...
Information about the radio
Staffi i Radio Mergimit eshte i perber nga 7 Studio të ndryshme,dhe i ter Staffi punojm pune vullnetare(pa pages) vetem qe te jem sa me te bashkuar me njeri tjetrin dhe mos të kemi perqarje.
Emisionet ne valet tona elektronike fillojne nga ora 20:00 ne mbremje dhe perfundojne ne oren 24:00.
Pershendetjet dhe urimet e degjueseve tane çdo mbremje duke filluar nga ora 20:00 deri 22:00.
Emisionet e nates me tema te ndryshme,çdo mbremje duke filluar nga ora 22:00 deri 24:00
Radio contacts