Stand with Ukraine. Save peace in the world!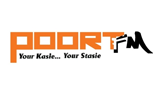 Poort FM 88.2
Poort FM is a community radio station situated in Eersterust, Pretoria, we provide top quality broadcasting to inform, update, educate and inform our listeners.
Poort FM 88.2 reviews
Palesa Maluleka

29.10.2023

Listening all the way from Soshanguve. Thanks for a great show...

listening here from Irene you rock my world the mazi is just awesome guys keep up the good work

Kirsten Daniels

17.09.2023

Love this topic thank you pastor Roger

Patience Masuku Ka Mabaso

23.07.2023

Dankieom ons warm te hou vanaand se heerlike vertoning..Die musiek is regtig wonderlik!

Loreal Lolla Martins

08.05.2023

Lekke , lekker!!!!! this weather is so personal, the music is on point. Great work Poort FM , JULLE WEET NET HOE

Thermocious Makwala

15.01.2023

Great work Dr vee , really enjoy your show and the music

Inaayat Mahomed

25.12.2022

Great Work Bra G , Good Music

love the show

Angeline Phillips

15.09.2022

Best in Music, Sports, Drama and Entertainment...Dankie Poort FM 88.2 Love It

What a great station.