Stand with Ukraine. Save peace in the world!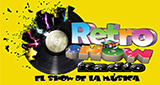 Retro Show Radio
Retro Show Radio, somos más que una emisora online, somos un show musical e informativo donde recopilamos grandes éxitos de 4 décadas con abundante información de interés para el adulto joven. Gracias por escucharnos, somos el Retro Show... El show de la música.
Retro Show Radio reviews
Wladimir Cedeño

20.02.2022

Exelente radio

Rafael josé Torres suarez

25.04.2021

Muy buena

javier rodriguez

18.02.2021

Buenas noches, de verdad muy buena su programacion .....saludos desde Barquisimeto Edo Lara.......

Gustavo Enrique

26.12.2020

calidad la emisora saludos desde maracay edo aragua

Luis Jose Rosmario

06.12.2020

buena emisora...felicidades desde cumana.-edo sucre.....

excelente dia. desde medellin saludos a todos mis panas en yaritagua y barquisimeto

Eugenio S Avendaño

22.10.2020

Un abrazo desde la distancia, Eugenio Avendaño, Mantecal, Edo. Apure Saludos.

Saludos,Te invito a descargar, nuestra App en Google Play para Android

este tipo de emisoras esta diriida a un publico adulto contemporaneo, y esse tipo de publico no les gusta mucho el regueton , eso tomenlo en cuenta en esta emisora era mas variada la programacion ahora suena es mas regueton y pop . los que oyen regueton son los jovencitos y eloos no oyen radio colocan playlist de otras plataformas es mi hulmide opinion

Jose Asencion De Freitas Batista

22.07.2020

BUENOS DIAS VICTOR . DESDE LA REPUBLICA DE CABUDARE ESCUCHANDO LAS ESTUPIDECES QUE DICE MADURO.......JAJAJAJAJAJA, SALUDOS.