Stand with Ukraine. Save peace in the world!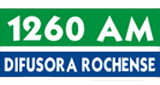 Difusora Rochense
Estación que brinda programas variados de entretenimiento y noticias, los shows más escuchados por el público Cosas del Campo, Informativo Central, Sobremesa Musical, La Tarde en Difusora yTango y Folklore.
Difusora Rochense reviews
Hola, les escucho desde hace un tiempo, soy rochense a añoro mi departamento. Un saludo enorme para ustedes y a los rochenses.

Gervacio Artigas

22.12.2021

Hola hermanos rochenses los estoy escuchando desde Sydney y me trae lindos recuerdos de mi infancia. Recuerdo la Rochense arriba de la estaciòn Esso. Un abrazo . Josè Olivera

Martín Morales Noble

19.12.2021

Me gustaría pedir un tema , de morat de 0 martin 428-8

Un saludo desde Summerville , Carolina del Sur , como siempre difusora Rochense la mejor del este uruguayo.

Estoy escuchando por primera vez desde Monda España. Me encanta escuchar a Landricina . Soy nacido en Castillos y tengo mi casa en la Aguada . Un saludo a todos.

Patricia Ferrari

23.12.2020

Buenos días desde Trento Italia, la radio se escucha estupendamente. Me gustó mucho la entrevista con el padre Pancho. Lo conozco desde hace muchos años y he trabajado mucho con él. Es un gran hombre de Dios, con gran vocación de servizio y amor a las Personas. Me gustó mucho que el periodista diga que vale la pena conocerlo porque es así. No puedo ser objetiva porque lo quiero mucho pero es la verdad. Felíz Navidad desde el otro lado del charco, escucharlos es como sentirme en casa. Buen inizio de año. Mucha Paz y Bien para todos.

Alicia Gardella

14.12.2020

Buenas tardes, saludos desde Brescia, Italia, estoy escuchando la entrevista de Angel Galzerano,musico uruguayo. Los felicito! .Me llamo Silvia,nacida en Santiago del Estero Argentina...

Saludos desde Zürich, Suiza

Enrique Garcia

16.05.2018

Se entrecorta la trasmisión.

aca monte verde,brasil.