Stand with Ukraine. Save peace in the world!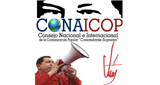 Conaicop
Misión: Es contribuir a la democratización de la información, especialmente de la radio y televisión con la amplia participación de todos los medios que estimen necesario la creación de la real información, priorizando América Latina y el Caribe. Trabajando por la solidaridad y unidad y lucha por la vinculación de los pueblos con la información como forma de lograr una mejor calidad de vida.
Show more
Information about the radio
Visión:
Estimular las relaciones a través de la comunicación con un trabajo desde la igualdad y solidaridad entre los pueblos, estimulando la defensa de la diversidad cultural a través del proyecto integrador Promover el desarrollo de todos, tratando de lograr lo máximo por intermedio de la colaboración mutua sostenible mediante actividades relacionadas con la radio difusión. Incorporando las nuevas tecnologías al servicio de la radiodifusión. Consolidando una red interactiva las radios comunitarias y por internet que creen en un mundo más solidario y con una justa de la riqueza mundial.
Historia:
Surge por la inquietud de lograr la comunicación entre las diferentes radios del continente, tratando de tener la mirada de cada pueblo al momento de acontecer los hechos, en lo que se pensó y ahora se desarrolla se verá el fruto de estas alianzas, estas son las emisoras que hicieron la primes comunicación.
Objetivo:
Atreves del "Contacto con el Sur" profundizar, resaltar, rescatar y promover el intercambio cultural, Social, Histórico, Humanista y Espiritual de los pueblos del sur que al fin y al cabo nos une un mismo sentir y la misma historia.
Radio contacts