Stand with Ukraine. Save peace in the world!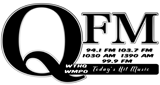 94QFM
Point Pleasant, 1030 kHz AM
WTHQ 94.1FM (1030 AM) is located in Point Pleasant, WV. Known as 94QFM "The Hit Music Station" 94QFM programs today's hit music along with High School Sports. Football, Basketball, Baseball, Softball and More.
94QFM reviews
Elizabeth Burnett

18.11.2017

Great Station

I may not be able to watch the game, but at least I can listen to it! Thank You!

Why do you play the same songs 3 or 4 times a day? Do you have anymore stuff you can get. The same rap over and over sucks after a while. I listen to this when I work in the area, but it is too repetitive.

Awesome!