Stand with Ukraine. Save peace in the world!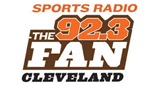 92.3 The Fan
Cleveland sports fans have a bold choice for news and information about their favorite sports teams. Sports Radio 92.3 The Fan (WKRK-FM) features locally produced programs hosted by familiar Cleveland voices, along with headline updates every 20 minutes and a full lineup of NFL and college football play-by-play coverage.
Show more
92.3 The Fan reviews
I enjoy Baskin and agree more with Phelps, but I'm 66 and been listening to radio programs for a very long time and the "let Jeff Thomas do it" bit is without a doubt THE WORST bit I have ever heard on radio. Annoying and basically pointless. The radio/ stream always goes OFF when that comes on now.

Been listening for longer than most people that do listen. I just happen to be on my PC at th moment.

Ignore the Haters! This is a GREAT sports talk radio station! Keep up the Good Work Guys!

Jackson Heisner

25.10.2022

great if you like sports

until the fan gets a decent app.. they're gonna be minor league..

I tune in to listen to SPORTS talk, not about a new pair of shoes, where someone ate last night or other non-sports filler. Can't believe how often I change stations, especially between 2p-7p. MANY of the hosts also support 'just get the shot' and they'll eventually figure out how completely wrong they are. Do some homework Phelps.

Andy is un informed and is waaay too dramatic too many times.Not Good!

Jeff and Andy show full of sound blurbs and sound effects and meaningless chatter about meaningless subjects a little too often. Do some work maybe expand your horizons.

Frank Dillingham

10.08.2018

Great show Bull talks too much Always right..
Information about the radio
Program Director Andy Roth: "For Clevelanders who live and breathe sports 24/7, this will be the place to get the best insight, most in-depth coverage and a well-rounded balance of listener participation."
Radio contacts
Call us at (216) 578-0092

Text "923" + your message to 84816
Msg&data rates may apply. Text STOP to cancel. Text HELP for help.