Stand with Ukraine. Save peace in the world!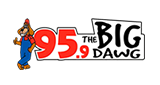 The Big Dawg
Williamsport, 95.9 MHz FM
95.9 is a country music radio station, primarily serving Washington County, Maryland. Our broader coverage area includes the tri-state region, including Chambersburg, PA and Martinsburg, WV. The station features music from 1985-1995, plus newer country hits and the classics too!