Stand with Ukraine. Save peace in the world!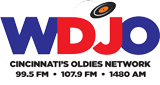 Oldies 1480
Oldies 1480 WDJO - WDJO is a broadcast radio station in Cincinnati, Ohio, United States, providing Rock n Roll Oldies music.
Oldies 1480 reviews
Robert Skidmore

18.03.2023

I love the station, but I can't get a play list, This is Boogie Bob! Your playlist vanished again, so the list comes and goes! I press the arrow to listen to WDJO and it tells me that there is a playback error, okay so what's wrong?????

Alexander Meyer

21.02.2023

There was a short stretch of time during which I couldn't pick up WDJO on the net.Glad I'm reconnected. I love the music, cadence and spirit of this station.

the music is great but the auto needs help the sound gets louder with out . turning the sound up other than that a great radio station that plays music that i grew up with , Luke League

.

Thank you for bringing back my all time favorite Dan Allen's Saturday night dial a hit & Cool Bobby Bee's Doo Wop stop. I'm a huge fan of doo wop. Just like old times

Great music

Great mix. Listen with your Google or Alexia device! Love listening on line all day. Its always on, in the background. Thanks guys for your hard work. Best! AKB

the best!

This station plays the best mix of 60's and 70's I've ever heard. My kids even enjoy listening to it. I wish I lived in Cincinnati, I would listen all the time.