Stand with Ukraine. Save peace in the world!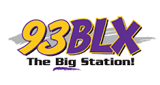 93 BLX
93 BLX - WBLX is a broadcast radio station from Mobile, Alabama, United States, providing mainstream Urban, Hiphop, R&B music and information.
Show more
93 BLX reviews
I LOVE….LOVE THE STEVE HARVEY MORNING SHOW. I listen to it EVERY SINGLE MORNING

NewberryStar Live Nibiru PlanetX

17.11.2022

I listen Everyday to 93BLX here in Dayton, Ohio. Born in Ohio and Raised in Goshen and Troy Alabama and Fort Walton Beach! I still visit the Gulf Coast. Love All the Personalities!

Zy'Miere Ballard

21.09.2022

i love blx

Natalie Armstrong

31.01.2022

Love 93blx

Live n Tex, but there's no place like home. (

Jennifer Fancher

16.08.2019

The Big Station The Best Station on your.... FM Dial 93 BLX..... Go way back to Madd in the morning time.... Morning show with Ray Ray

Peggy Johnson-Goldsmith

07.04.2019

Good Morning Evangelist Janice Moore! Biloxi MS is listening!!

Big King Dre Savage Fl Studios

31.01.2019

Can I get my song on y'all station been tryna do it for the longest whats the price I'm with it I been calling an everything but can't get nobody!!!!😞😞😞

Christopher Douglas

19.04.2018

awesome music
Information about the radio
The station has served the Gulf Coast for more than 25 years. Owned by Cumulus Media, its studios are on Dauphin Avenue in Midtown Mobile, and its transmitter is near Robertsdale, Alabama.
WBLX began in October 1973 as FM counterpart to gospel station WMOO (1550 AM). As WBLX, with the Urban contemporary format, has been one of the market's leading stations with the same calls and format for about 25 years. In 1998, Cumulus acquired competitor WDLT-FM, and skewed it to being an Urban Adult Contemporary. This has allowed WBLX to skew its programming towards a younger audience as a Mainstream Urban. Also for many years, WBLX carried the "93BLX Jams" and "The Beat of the Bay" brandnames, however, in 2000 they changed their slogan to "The Big Station 93BLX".

Cumulus Broadcasting began upgrading its stations to HD Radio broadcasting in 2005. One of the first ten stations to be upgraded was WBLX-FM.
WBLX is one of the most powerful radio stations in the Gulf region. It can be heard from New Orleans, Montgomery, AL, South Georgia, and 100 miles out in the Gulf of Mexico.
Radio contacts