Stand with Ukraine. Save peace in the world!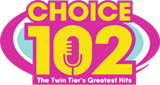 "Choice 102"
WAVR (102.1 FM) and WATS (960 AM) are a pair of radio stations simulcasting an adult contemporary format. The stations serve Bradford County, Pennsylvania and Tioga County, New York, located in the Twin Tiers between Elmira and Binghamton.
Show more
"Choice 102" reviews
Alberto Garcia

18.02.2023

EN GENERAL, MUY BUENA, POCOS ANUNCIOS, POCAS INTERRUPCIONES, GENIAL

Thank you for the wonderful update on WATS/WAVR news & weather. I am very impressed with the addition of Saturday mornings update. I will enjoy hearing more news from the Chemung County area as you expand your coverage. Again I thank you for improving our local radio listening.

I enjoy waking to Choice 102 hearing the news & weather. I listen to a few tunes, but I can get those on any station. Now you have stopped the morning news/ weather report/local sports all together. I will need to start search for a local radio that gives me a local news/weather. Very sorry you have chosen to destroy one of the best listening parts of Choice 102.
Information about the radio
Choice 102 is community-minded radio for the Twin Tiers. Serving the Valley including: Sayre, Athens, and Waverly as well as the surrounding areas from Elmira to Binghamton, NY.
Radio contacts