Stand with Ukraine. Save peace in the world!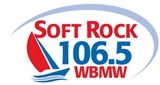 Soft Rock 106.5 FM
Soft Rock 106.5 - WBMW is a broadcast Radio station from Ledyard Center, Connecticut, United States, providing Soft Rock, Adult Contemporary and Pop Music.
Soft Rock 106.5 FM reviews
(/ ̄▽ ̄)/ Best

Guillermo Ovalle Lyon

23.11.2019

Thanks friends with your music that I listen to 106.5FM, on weekends, you return my soul to my youth years, congratulations from Chile ,Thank you Thank you.-

Michael Konorowski

07.06.2019

Great

soft rock survivor eye of the tiger rockopa

This station overly plays Adele about every 90 minutes and they don't add alot of artists compare to other Adult contemporary stations.
Radio contacts
Fax: (860) 464-8143