Stand with Ukraine. Save peace in the world!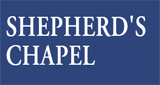 Shepherd's Chapel
Shepherd's Chapel Radio is an internet radio station from Gravette, Arkansas, United States, providing Christian Education as a ministry of the Shepherd's Chapel.
Shepherd's Chapel reviews
Excellent Bible teaching. Always knew there was more to the Bible than what I'd been taught. Shepherds Chapel teaches directly from God's Word, the Bible. A real eye opener, each session leaves one hungry for more. Really connects the dots. So interesting and exciting yet written so a child could understand. Give it a listen.

Thank you for not cherry picking the Bible, as many do, and preaching it exactly as it is written! <3

shepherds chapel started my journey of learning in depth bible studies. i gave this ministry 5 stars but only about 4.5 is showing. God bless this ministry. only 4 stars showing after posting.

Christopher Jones

24.05.2021

New

Everette Belong

19.03.2021

Please don't stop teaching God's Word chapter by chapter, verse by verse, and book by book, it is truly a blessing on all who study here, many thanks, God bless.

Shepherds Chapel Has Been Such A Huge Blessing In My Life, Great Understanding.... Comforting To Listening To, Thank You Heavenly Father

I Thank our Father in heaven for The Shepherd's Chapel! I Thank Pastor Arnold Murray who is with Him. I Thank Pastor Dennis Murray for continuing this wonderful work. . I thank the staff and the whole family in Christ Jesus who supports this ministry. May God continue to bless now and forever in Yeshua's precious name. Amen.

I LOVE to listen to Shepard's Chapel because of their insight into God's Holy Word.