Stand with Ukraine. Save peace in the world!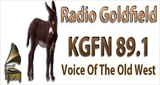 Radio Goldfield - KGFN 89.1
KGFN is the Voice of Goldfield, Nevada, and strives to keep our community vibrant by providing quality programming, and providing community access to the airwaves for the purpose of sharing music, experiences, news and information with those in our listening area.
Radio Goldfield - KGFN 89.1 reviews
Big fan of the town and this station. One of my best memories, and now I can get the Goldfield vibe anywhere I get a signal! Texted a ton of friends about the "All Dog" show, which immediately turned dark and sad and pals were all "WTF?!".

Jus stopped by ta see whhat condition my conditioner wuz in...here via the "Wonderhussy" y'all have her on as a guest whhen ya get around to it she's a riot. From a self-proclaimed "Hook Line & Chill" superfan Chucky from Kentucky...Chair's

I found the station on a Website called "Radio Garden" and I love listening to it when im bored.

roseanna marotta

20.03.2023

My son found your station on his way fishing and told me I should put your station on my phone and computer..It took him awhile to find your station. I must say I have not stopped laughing since I started listening..Great stuff and I am hooked. I am passing your info on to friends who I know will enjoy what you do.. Thanks for all the laughs. Fan from Las Vegas.

Great

I had some in laws who lived in Goldfield--they have both recently passed away. I heard so much about the curious little town. Then had a chance to drive through a few times on my way between Tucson and Eureka, It was on my drive through recently that I saw the sign for Radio Goldfield. I tuned in on my car radio. What a treat! Americana! I am now listening on my computer at home.

Sally Gillette

01.04.2022

I miss Nevada. Glad I can still listen. Thank you!

Wine Cellar Cooling

08.02.2022

Hey Radio Goldfield, I'm listening in London and really enjoying this glimpse into Nevada life! Best Wishes!

Giampiero Molinelli

28.01.2022

Greetings from Genoa - Italy! .I heard about Goldfield by accident, what an interesting community yours is! You are great ! A virtual hug to all of you.

Christian Buch

09.12.2021

in nice memory of the day in Goldfield during our USA vacation before COVID, I still hear KGFN, for the day we come back, greetings from Austria / Europe
Radio contacts
Telephone: 775-485-3773