Stand with Ukraine. Save peace in the world!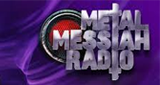 Metal Messiah Radio
24 a day, 7 days a week, internationally accessible Internet radio station. Metal Messiah Radio has Djs from all over the world, spanning five of the seven continents, all bringing you the very best music to get you through your day no matter what time zone you are in. Metal Messiah Radio's DJs play both ends of the rock to metal to extreme spectrum. The DJs at Metal Messiah Radio not only provide you with the very best music for your enjoyment but they also conduct interviews with the artists that make that music. The station is dedicated to bringing the listeners the very best music there is to offer and we are...YOUR METAL MUSIC MESSIAH!!!
Metal Messiah Radio reviews
This station rocks \m/

ImI

John Efstathiou

17.01.2021

Δεν παιζει

Killer list. Cheers \m/

Kostas Vaxevanos

04.10.2020

Keep it up Maria! \m/ cheers from Hellas!

So good!

The music I love and grew up with .....more of this

Top station...

Absolutely love this station.... Just wished the UK had one similar.... Jet rocks...