Stand with Ukraine. Save peace in the world!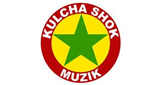 Kulcha Shok Muzik Radio
Kulcha Shok Muzik Radio is a web based internet radio station from Miami, FL that plays Reggae, Dancehall, Roots, Reggae Roots, Culture, Reggae Rock, Acoustic, Hawaiian, Jawaiian, Reggae Hip Hop, Soca, Calypso, Caribbean, Surf Music, Surf Rock, Cali Roots, Surf Roots, California Reggae, West Coast Reggae.
Kulcha Shok Muzik Radio reviews