Stand with Ukraine. Save peace in the world!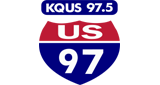 US97
KQUS-FM (97.5 FM), known as "US97", is a Mainstream Country formatted radio station located in Hot Springs, Arkansas.
US97 reviews
Best morning show on the air. Been listening to this morning show for about 18 years. My father-in-law passed away I inherited his truck. He had it on us 97 and I've been hooked ever since.

Yall have some of the best country music. Vickie's hero name can be strawberry girl and Jareds hero name can be chocolate boy.
Radio contacts
Fax: 501.525.9739