Stand with Ukraine. Save peace in the world!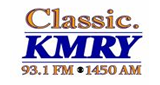 KMRY
Cedar Rapids, 1450 kHz AM
The Greatest Hits of All Time! Cedar Rapids' Classic KMRY 93.1 FM/1450 AM. Three decades of favorites from the 60's, 70's and 80's! Timely information, too...CBS News and up-to-the-minute weather information every hour; local news and sports; fun ways to win and friendly, local voices!
KMRY reviews
Rose Slaymaker

23.04.2023

If I was only reviewing for the British hit program tonight, I would have given a 5 rating. I don't know the exact month and year your programming changed during the week, but now, KMRY is not unique (perhaps the change happened when Rick Sellers retired). Now it is like any other radio station I listen to. Including "Classic" with KMRY with your weekday programming is a misnomer. If I was giving a ranking based on your weekday programming, I would have only given a rating of 1. I so loved going to your station to hear older songs. I have many lovely memories of listening to KMRY and singing songs with my Mom during her last year with us. If your advertising dollars haven't increased significantly as a result of your change of programming, PLEASE go back to the way you used to be. Because of how good the British program was tonight, I came and listened live from my computer. Great show! I would have enjoyed the Buddy Holly tribute night too mentioned in the other review. And while I don't think of myself as a Polka show fan, I have caught myself listening to it here and there--it brings a smile to my face!

William Vincik

05.02.2023

love your buddy holly tribute tonight!!

We are so glad to have Dave and the Polka show on Sunday's. As you say , Dave the show has been a listening tradition in our family for all of my 62 years AND we are passing it along to our girls and our grand children. We love "lets all get together and make it a Good Week" We would love to be able to access recorded shows during the week? Thank you! Claude and Deb Papesh, Newhall IA.

I love listing to this station, as you hear songs that other stations don't play. Also the DJ'S are so entertaining, and it's nice to have the news piece as well.