Stand with Ukraine. Save peace in the world!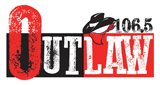 Outlaw 106.5 FM
Outlaw 106.5 blends the country favorites from the artists that made country great with today's artists keeping the sound of traditional country alive!
Outlaw 106.5 FM reviews
Rochelle Davies

31.07.2022

We love Out Law Country they play really really good Country Music. And Chad you are a very good radio presenter keep up the good work.

23531831 mills

25.12.2020

FAB COUNTRY,NOTHING LIKE THIS IN THE UK,PETE FOM BRISTOL

𝐕𝐞𝐫𝐲 𝐧𝐢𝐜𝐞 𝐦𝐮𝐬𝐢𝐜, 𝐠𝐫𝐞𝐞𝐭𝐢𝐧𝐠𝐬 𝐟𝐫𝐨𝐦 𝐆𝐚𝐥𝐚𝐱𝐢𝐝𝐢 , 𝐆𝐑𝐄𝐄𝐂𝐄 (っ◔◡◔)っ ♥

Thank you so much for streaming Bearkatz basketball. Love being able to keep up with the games online since I do not live close enough to go or listen to it on the radio. <3

best outlaw country station

Herbert Vickers

29.01.2019

Great country station available for Horseshoe Bend & Batesville area. Good selections!