Stand with Ukraine. Save peace in the world!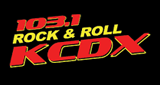 KCDX 103.1 FM
KCDX 103.1 is a broadcast radio station from Florence, Arizona, United States, providing Rock & Roll music.
Show more
KCDX 103.1 FM reviews
You guys Rock!!! Keep up the great work!!! Please play more Steve Marriott, Humble Pie and Small Faces. I like the song "Black Coffee" with Steve Marriott & the Blackberries (female backup singers) and of course "30 Days In the Hole" and his version of the Eddie Cochran song, "C'mon Everybody". We're all in this together. Peace and Love.

Kelleigh Burns

28.09.2021

So glad my friend turned me on to this awesome radio station. Best I've ever heard

Dianne Anderson

29.08.2021

Best station ever! I know it fades in and out when I'm in AZ but I play you all day long in MN. Please don't ever cave to the corporate radio stations! You're the best! I moved to AZ when I was 10 from MN and this music is a piece of my heart and soul. It totally brings me back to my roots. I'd love to make a donation to keep you and me Alive and Rockin! How can I do that?

Well firm and high....love it!

I'm a new listener. I would not listen to any other station. However, last night while on the road from Show Low to Marana, my radio would not play KCDX. All other FM and AM bands came in normally. I really missed you people and the great music you bring to us. What happened?

I love it and Ted. Where are you located in Florence? Ty
Information about the radio
KCDX, a privately owned and funded radio station, operates each day with one mission in mind: Staying true to the music. We have thrown the corporate radio guide book out the window, and replaced it with real listeners' views and opinions. Artists and listeners alike know that Rock and Roll isn't made up of just 500 hit songs. Rock and Roll is so much more than that. We know this. This is why we here at KCDX spend countless hours digging deeper into our collections to find those missing pieces of Rock and Roll history. As KCDX nears its seventh year of playing NON-STOP Rock and Roll, we promise to never let our search for Rock and Roll end. If you, too, are passionate about your Rock and Roll and would like to help the search for great Rock and Roll, please visit our "Rate the Rock" page and help us discover.
Radio contacts