Stand with Ukraine. Save peace in the world!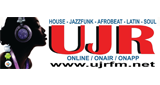 UJR FM [Dance Radio Network]
UJR FM, is the UK's only alternative music network which broadcasts Music and Talk across the Globe. The purpose of UJR FM is be to provide high quality entertainment, in the form of alternative Music and Talk to 'Cosmopolitan' & diverse audiences. The station aim is to ultimately attract listeners from around the World through its online service, which will broadcast 24 hours a day on http://www.ujrfm.net/
Show more
UJR FM [Dance Radio Network] reviews
Information about the radio
Music Policy
The station's 'Music Policy', and identity are based primarily upon the concept of 'Urban Jazz', which according to the 'Wikipedia' is now defined as:
"The fusion of Jazz, R&B/hip-hop, House & African/Latin beats……….usually containing strong R&B percussion and bass lines…………..Due to the natural progression from jazz to hip hop and hip hop's sampling of jazz, it only made sense to cover hip hop and R&B with jazz musicians………A genre that is definitely growing, urban jazz has an increasing audience on non conventional radio, TV and especially the internet"
Radio contacts