Stand with Ukraine. Save peace in the world!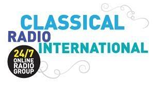 Classical Radio International
Classical Radio International plays a range of classical music. On Classical Radio International, our favourite composers include Johann Sebastian Bach, Johannes Brahms, Frédéric François Chopin, Edvard Hagerup Grieg, Georg Friedrich Handel, Felix Mendelssohn, Wolfgang Amadeus Mozart, Pyotr (Peter) Ilyich Tchaikovsky, and Antonio Lucio Vivaldi. We also play music by modern composers and include their piano and cinematic compositions. This provides an interesting variation from the traditional classical radio station.
Classical Radio International reviews