Stand with Ukraine. Save peace in the world!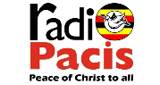 Radio Pacis
Radio Pacis Mission Radio Pacis educates and informs while promoting the well-being of our community - "Providing Infotainment for our community" Infotainment is a combition of the words Information and Entertainment. It means educating listeners in an entertaining way: Radio Pacis is not only a radio station, but a means of education for the listeners. Topics include health, women's rights, domestic violence, agriculture, development, schools, family life, and children's programmes.
Radio Pacis reviews
Thanks pacis , am joseph listening from Tororo district, morukatipe subcounty , we appreciate your programs

This is Gordon Dramuke listening live from Kampala Kansanga

Hi pacis, thanks for the show, I'M Papa Geofrey live from Kampala, play for me any song from otumbari parish

Hi, I'm Fred Asega listening from Nsambya Kampala.

katooko beatrice

04.06.2023

am oluku,send ma regards to all christains of okuvuru chaple and play any song 4rm teremunga choir.

Am A duma Jus to enjoying choirs of west Nile live from sembabule thanks for the progra

Emmanuel Afoyomungu

14.05.2023

thank you presenters am streaming liv from Arivu

Geoffrey Ejoyi

16.04.2023

Hai Ataza Alicia, am Geoffrey Ejoyi streaming you live from Khartoum. I real appreciate your program and wish a happy Sunday to my Beautiful wife Grace Orionziru and my son Able Rafael.

Migangi Elisha

17.03.2023

Hello radio pacis this Elisha migangi listening you live from Entebbe katabi thanks for the show.

Hi pacis thanks supporting online listening we are real enjoying the programs greetings to Aliga , Andega, lonzino, Acidri, Gasps, all in ngiri village in odupi by Azabo from entebbe.