Stand with Ukraine. Save peace in the world!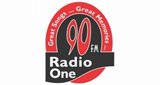 One FM
Founded in 1997, our format is Great Songs...Great Memories. Music played is targeted at adult listeners and is aimed at resonating their good memories.
One FM reviews
right here tuned in to the very best of the memories?@ Jinja source of the Nile.

Nsereko Julius

18.06.2023

listenig in from Saudi Arabia

Hello Radio one, this Royen catching you live streaming from Apac Municipality.

Thanks for the show, I'm live from lwamata, Kiboga.

Mr. Kitasse Timothy

25.12.2022

Great music say Hi to Polar

Listening in from Brussels! Awesome sounds. Absolutely excited to 'be home' through Radio One.

FM 90 you are really number 1. in Kenya but you always make my day. Good Ugandan ambassador.

Emmanuel Ntalima

07.11.2021

Hellow Radio One Fm 90 🔱📶✔️🔥💫✨ i'm Ntalima from 🇹🇿

I'm Paul listening from UTC-Kichwamba, Tourism City, Fort Portal; I only wish if your service could extend up to here.

It's clearly Radio One that brings me closer to home with memories of yesteryears to me. Fair and balanced reporting with mature content. You Lead and Others Follow indeed.