Stand with Ukraine. Save peace in the world!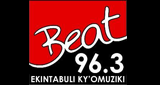 Beat FM
96.3 Beat fm was acquired by 91.3 capital fm under the same management of capital Radio Ltd Uganda and re-launched in 2005.96.3 Beat Fm is the leading Luganda Language station in Uganda as various stead man group media surveys confirm.We broadcast to Kampala and greater Kampala and central Uganda and we target 30-40 years old with a female bias.The station plays a selection/mix of music that appeal to this age group. We talk about issues that are relevant to this age group as we have dominant personalities that address this group.
Beat FM reviews
Abdallah Kazungu

29.08.2023

Hello bro when you just say over, which over do you mean??

abdallah kazungu

22.08.2023

Hello, am on too

Thanks for the show, I'm live from lwamata, Kiboga.

Bamuturaki John

23.02.2023

Nice station

kwendi musa taata munirah

Sky Wizzy music

16.12.2021

Kwendi tuninze Kibalama frank munazuura

Not clear why

Charlie Tamale

01.05.2021

I liked the way you give callers time to make clear comments

samuel ssekatawa

10.02.2021

Mukunja ,Namayanja Ne Ammoti mwebale okuwereza mpozi eddobozi lyamye ku mpewo za Internet libulabula.

Gdmng bro,thnkx for da prgrm,this z James,at wat time will u give it out.