Stand with Ukraine. Save peace in the world!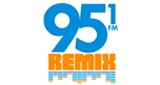 95.1 The Best Mix
Port of Spain, 95.1 MHz FM
95.1 the bestmix is part of the Trinidad Broadcasting. which is a division of the Trinidad Publishing Company, a member of the Ansa McAl group of companies. 95.1 the bestmix broadcasts with 100,000 WATTS of effective radiating power.Making our signal heard from Venezuela to Barbados.
95.1 The Best Mix reviews
Beautiful chilled good vibe station, music and presenters glad i saw this station from lit fm page...added it on my homescreen now...and the country they playing from i love...will visit one day...lanzarote my main hols...italy not no more as no grandparents left to visit...newquay in cormwall in uk my dads favourite place...near the sea...x

The best music station for me is 95.1 it plays all the types of music I love, and I enjoy it immensely, especially retro Wednesdays and Rick Dees countdown 😀

Ian Balkaransingh

27.09.2023

95.1 The Best Fm what's your guys whatsapp num

Best mix ♡

Online!... where antennas do not work properly!

as usual 95.1 delivers

Trinidad Global Gamer

18.06.2021

MSPC youth group "95.1 IS THE BEST RADIO TO WAKE UP TO "

Thk u

80s is a must

Best