Stand with Ukraine. Save peace in the world!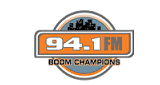 Radio Boom Champions
Port of Spain, 94.1 MHz FM
An urban radio station in Trinidad and Tobago that has amassed the strongest youth following bar none. Boomchampions 94.1FM offers great entertainment, addresses social and societal issues head on and delivers the best in urban music on the FM dial. Visit BOOMCHAMPIONSTT on Twitter and Instagram as well.
Radio Boom Champions reviews
D best

Ranesh Boodhoo

30.10.2021

Selvin's car care locked in

♥️❤️@gianamagicfingers locked in

It's always a positive vibes on Boom Champions blessings all❤️🙏

Hello friends, I am writing to you from Argentina, it is the first time I listen to your radio, very good, I love your country, although I was never there, it is a paradise, one day I will go and visit you.

Julianna Mohammed

26.03.2020

This is an interesting topic. Julianna lock in. Have a bless night guys.

Natasha Gibbs-Ramroop

23.01.2020

smooth you and shall shelling down the place Boom to the world ,,thicksauce locked on

Gtb Miles Davis

01.10.2019

yes booom nice tune boiiiiii

triniboss gyal

24.07.2019

this radio is shyt ... lacks proper entertainment... all those ppl takin up space but nun of dem can do dey job...

Shell Down D Place

23.11.2018

big bad thing liking the music
Radio contacts
https://www.instagram.com/boomchampionstt/
https://www.youtube.com/user/Boomchampionstt