Stand with Ukraine. Save peace in the world!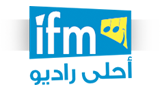 Radio Ifm
Radio IFM est une station de radio privée tunisienne émettant sur la bande FM depuis le 4 novembre 2011. IFM est la première radio thématique en Tunisie: le meilleur du rire et de la musique IFM -100.6
Show more
Radio Ifm reviews
Hichem Ben Taleb

25.02.2022

AHLA RADIO

A7LA RADIO

ahla radio

Un bon travail

Great content

j'adooooooooore

يااحلifm
Information about the radio
Le contenu proposé par IFM s'articule autour de trois axes : musique, humour et information.
IFM se démarque par son format musical : avec sa programmation mêlant musiques orientale et occidentale (50-50 %), IFM revisite quotidiennement, chaque heure, les annales de la musique des années 1980 à nos jours. Néanmoins, IFM se veut également un espace permettant de révéler des talents et de soutenir les découvertes récentes. Ainsi, la musique underground, tunisienne en particulier, a une place de prédilection au sein de la grille.

Une tranche quotidienne est également consacrée à la diva égyptienne Oum Kalthoum dont les plus grands classiques sont revisités par l'équipe de programmation musicale de la radio pour obtenir un format compatible avec la diffusion radiophonique. Les musiques du monde (africaine, latine, tzigane, etc.) bénéficient également d'une place de choix et des tranches spéciales y sont consacrées.
IFM est la première radio orientée sur l'humour en Tunisie. Chaque heure, une sélection de sketchs et d'extraits de spectacles humoristiques tunisiens, arabes et français sont diffusés. En outre, IFM consacre à l'humour d'importants moyens de production en voulant être un laboratoire du rire : des capsules spéciales « Rire » sont élaborées en interne par une équipe d'artistes, comédiens, humoristes et rédacteurs exclusivement affectés à cette tâche.
Des flashs d'actualité de 90 secondes sont présentés à la tête de chaque heure.
Radio contacts