Stand with Ukraine. Save peace in the world!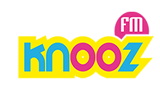 KnOOz FM
Sousse, 98.0-105.1 MHz FM
KnOOz FM est la 1ère radio de divertissement (musique, rire et jeux) sur le grand sahel, proposant ainsi un programme unique pour une radio régionale. KnOOz FM est une radio autorisée par la Haute autorité indépendante de la Communication audio-visuelle (H.A.I.CA.) depuis septembre 2014.
Show more
Information about the radio
Elle diffuse 24h/24h sur la bande FM via les fréquences : 105.1 qui couvre Sousse, Hammametet Zaghouan et 98 qui couvre Monastir et Mahdia et dans les quatre coins du monde via internet sur son site officiel : www.knoozfm.net.
La radio diffuse désormais sur prés de 20% de la population.
Radio contacts
https://www.instagram.com/knoozfm/
https://www.youtube.com/channel/UCRJ5DgbIzDSmjP3SMbaTNFA
https://plus.google.com/+KnOOzFM