Stand with Ukraine. Save peace in the world!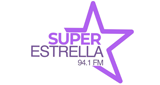 Super Estrella 94.1 FM
Tu Universo Musical en Dial! Emisora de Radio corporación el Salvador. ABC 100.1 FM es la excelencia hecha radio con un selecto formato músical al gusto de todos los oyentes. Al mismo tiempo mantiene informada a la población con espacios noticiosos, se caracteriza por la juventud de sus locutores que le ponen mucha vibra y alegría a cada uno de los programas de esta estación.
Super Estrella 94.1 FM reviews
Leonor Albanez

04.07.2023

La mejor emisora

El programa Modo Finde Excelente Jimmy zi, saludes la chelita.

Carlos Burleson

04.01.2022

Hola buenas tardes .!! Soy Marcela campos. Quiero enviarle un saludo a Mauricio castro . Y dedicarle una canción de franco de vita tú de qué vas . Porfavor se lo agradezco mucho q tengan

Excelente al fin un poco de Rock en El Salvador

Excellent Super estrella en permitir un espacio para el rock Astral

Francisco Huezo Bautista

09.10.2021

Muy buena opcion musical!!!

Mario Trinidad

14.07.2021

Genial

Charly Feelgood

06.07.2021

Exelente decisión de tirar al aire la mejor programación de los tiempos... reviviendo la Astral... exelente súper estrella,ojalá fuera todo el día...