Stand with Ukraine. Save peace in the world!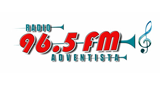 Radio Adventista
San Salvador, 96.5 MHz FM
Radio de la Iglesia Adventista de El Salvador que transmite desde San Salvador para el mundo, con espacios que versan sobre la fe y musicales con temas de cantautores cristianos, además de mensajes, reflexiones y servicios.
Radio Adventista reviews
El Consepto SV

21.08.2022

Excelente programación

Hola les escucho desde España, Bendiciones ❤ saludos para mi madre Conchita ❤

Disculpen buenos días quería saber cómo se llama el pastor que predica Aserca de una historia de una joven que se llama Ivelisse de puerto rico

rachel acevedo

07.10.2021

Hola, Dios les bendiga. Me gustaría tener la copia de ese sermón del día de hoy 10/07/21

luiver jimenez

14.02.2021

hermosso programa Dios los bendiga los escuchamos desde cd acuna coahuila mexico.quiero saludar a mi esposa olivia fernandez .muchas gracias los escucha la famiia jimenez fernandez

Excelente

Bueno