Stand with Ukraine. Save peace in the world!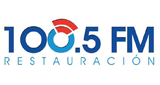 Restauración
San Salvador, 100.5 MHz FM
Restauración 100.5 is a broadcast Radio station from San Salvador, El Salvador, Provides Evangelical, Christian, Religious and Gospel programs.
Restauración reviews
Gerson Salguero

02.09.2023

Me gusta mucho ese programa la lista del recuerdo lo he escuchado desde el año 2021 les saluda Gerson Salguero desde Star Bárbara Honduras..

Manuel Montano

19.11.2020

Disculpen hermanos pero porque dan números de teléfono y cuando uno llama nadie contesta, me parece que es una mala educación

Juan Gutierrez

26.07.2020

Desde Guatemala en sintonía del programa, alabado sea Dios por el programa edificante, claro pero sobretodo verdadero acepto los puntos doctrinales como respuesta a las inquietudes solicitadas mis felicitaciones y la gloria a nuestro Dios, pregunto cada cuánto estará trasmitiendo ese segmento? att: Juan José Gutierrez

Muy buena radio. Me habla Dios y principalmente me llama a la restauración de mi alma

Muy buena radio. Me habla Dios x ella en palBraz lecturas y canciones.