Stand with Ukraine. Save peace in the world!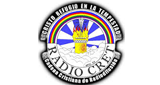 Radio Cret San Miguel
Radio Cret San Miguel is a broadcast radio station on the Cadena Cristiana Cret radio network from San Miguel , El Salvador, providing Christian Religious Music, Talks and program.
Show more
TOP songs on Radio Cret San Miguel
Radio Cret San Miguel reviews
Jose Miguel Galvis Galvisbasto

13.02.2023

pido oracion pastor jose vidal albarado por una niña que tiene 2 añitos y le diacnosticaron canser ella se llama samara narvaes y su madre la hermana pilar narvaes esta muy deprimida desde cucuta colombia

bendiciones pastor vidal albarado desde cucuta colombia muy clarita la emisora

DIOS LES BENDIGA

[email protected]

Hermano vidal necesitamos un en vivo de ud

Dios Les bendiga grandemente se escucha bien aqui en Canada ADELANTE PUEBLO SALVO POR DIOS!!!!!!!

Ecelente radio. Continuen adelante.desde Buenos Aires Argentina.saludos del maestro Genaro Lazaro

H Jesus Guevara

31.03.2017

Muy bonito programa hermanos
Information about the radio
Quiero decirle que en 1982, Dios me puso en el corazón de poner un programa radial, en ese entonces era bien difícil para nosotros ya que estábamos viviendo la guerra, llegue a una estación local y cuando les dije que era para un programa radial Cristiano, me dijeron que no.
Luego me fui a otras estación y me dijo el gerente que hacia un mes habían dejado un espacio de una Iglesia, y que estaba ese espacio libre, el precio que me dieron para que pagara fue de $ 68.57 mensuales, era difícil para nosotros, pero no imposible para Dios, iniciamos el primero de Octubre de 1982, llevando bendiciones a los oyentes que estaban en las serranías, recibíamos cartas de los militares como guerrilleros que escuchaban el programa, pasaron los años y Dios me puso en el corazón que yo estaba contando lo que Dios había hecho en mi ministerio y de los demás pastores, ministerios que pasaba con ellos, le dije a Dios que me diera una estación de radio propia.
Radio contacts