Stand with Ukraine. Save peace in the world!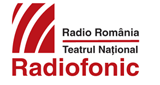 Teatrul Național Radiofonic
Aici găsiți informații despre repertoriul Teatrului Național Radiofonic, programul de difuzare a pieselor și emisiunilor cu profil de teatru radiofonic pe posturile Radio România, detalii despre piese și distribuții, informații la zi despre activitatea Redacției Teatru, audiții cu public, opinii despre teatrul radiofonic, fotografii de la înregistrări și din arhiva SRR.
Teatrul Național Radiofonic reviews
ce e asta?

Superb

recomandat tuturor, foarte bun, educativ, respect

2. Recunoștință echipelor tehnice care au făcut posibile înregistrările analogice și digitale dealungul timpului, constituind astazi Arhiva Radiodifuziunii.

mari actori,nu se vor naste altii ca ei.

mare clasa !

De dat mai departe

Adrian Stramaturaru

16.11.2019

Excelent!

Daniel Dimitriu

30.10.2019

postul meu radio cel mai ascultat....

Valentin Apostol

26.10.2019

bun.foarte bun