Stand with Ukraine. Save peace in the world!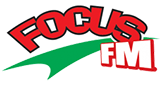 Radio Focus
Lansat în anul 2000 sub sigla grupului Evenimentul Românesc, Focus FM este un radio ce pune muzica la loc de cinste și se adresează unui public cultivat, dinamic și bine informat. Focus FM poate fi ascultat online sau pe frecvențele FM în Râmnicu Sărat, Buzău, Vrancea, Galați și Brăila, formatul adoptat fiind Adult Contemporary, iar publicul țintă având vârsta cuprinsă între 18 și 40 de ani. Pe lângă emisiunile muzicale create pentru segmente specifice de ascultători, Focus FM difuzează și emisiuni de știri și dedicații, accentul fiind pe informațiile locale.
Radio Focus reviews
Florin Atoderesei

17.08.2023

salutare tuturor, la care nu va place acest post de radio, nu mai comutati pe frecventa, nu mai aduceti jigniri realizatorilor

iulian octav vintila

02.08.2023

bun postul.felicitari si continuati tot asa

mita biciclista

17.05.2023

FLOC

hodorogilor, trist

TARANILOR!

Din partea lui Iacob Lavinia

Vă ascult online, este un post de radio plăcut și vă ascult din toate colțurile Europei și parte de Africa. As putea incerc să vă dau un sfat pentru a fi perfecți din punctul meu și al multor cunoscuți cărora v-am recomandat. Puneți play-list -ul online pentru că aveți atâtea melodii bune cu cântăreți nu foarte cunoscuți și în acest fel va puteți face o mai mare audiență; mai cunoscuți vor fi cântăreții din ,,pepiniera" proprie și ascultătorii pot asculta cu ,,repetiție" sau dedica anumite melodii. De exemplu majoritatea va ascultăm pe aplicația Radio România FM aici puteți compara cu Național Fm. Și vă garantez că vă ascultă un segment mult mai mare de populație. Felicitări și îmbrățișări din partea mea și a cunoscutilor din camioane și de la locul de muncă al fiecăruia pentru că le meritați! Danut Culache.

POst de PRosti de la taranoaia

Nicoleta Calin

14.08.2022

La Sahateni nu avem receptie/Postul nu poate fi difuzat.

Dorian Psaropol

14.07.2022

Din partea lui Dorian de la Braila, pentru toti salariatii societatii ECO S A Brăila, dedic o melodie lasand la aprecierea dvs. Multumim.