Stand with Ukraine. Save peace in the world!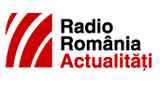 Radio România Actualități
România Actualităţi este principalul post de radio al Societăţii Române de Radiodifuziune.Sondajele de audienţă îl plasează în prezent pe primul loc la nivel naţional şi în mediul urban, cu o ofertă variată de informaţii şi muzică.
Radio România Actualități reviews
mita biciclista

17.05.2023

muie bolsevicilor!

Minciuni

DEPASITILOR!

/

Un Radio A,,, cu de toate ( stiri , sport ,muzica, teatru radiofonic sfaturi medicale,reportaje saptamanale utilitare ..) bravo (Y)

I listen often to Radio Romania Actualitati when I'm on a mission. Great, keep up the good work

Comuniștilor, rușine!

Rodgers Brendan

12.10.2022

Good music and some interesting information and news about Romania.

radio ca inainte de 89!

Tudor COSMESCU

03.03.2022

Niste cacati!
Radio contacts
https://www.youtube.com/user/RomaniaActualitati