Stand with Ukraine. Save peace in the world!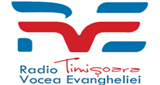 Radio Vocea Evangheliei Timişoara
"Radio Vocea Evangheliei" si-a asumat un rol educativ in spiritul valorilor crestine, si-a propus sa constituie un refugiu, o alinare si un spatiu de reflectie care ofera o perspectiva crestina asupra vietii, completand in acest fel golul creat de educatia ateista. Radio Vocea Evangheliei are menirea de a ne ajuta sa devenim mai buni, sa ne apropiem unii de altii... Dupa "inchisoarea" in care am stat in timpul regimului comunist, experimentam in acesti ani o criza morala majora si numai credinta in Dumnezeu ne poate aduce din nou impreuna."
TOP songs on Radio Vocea Evangheliei Timişoara
Radio Vocea Evangheliei Timişoara reviews
Annemarie Iancu

26.11.2023

Domnul Isus să vă binecuvinteze fiecare secundă de emitere!Sunteți balsam pt.suflet.

Gica Sacrieriu

03.09.2023

Sunteti singurul radio pe care il ascult si asta pentru ca sunteti altceva.D-zeu sa va binecuvanteze!!

Cel mai bun post de radio. Va ascult cu drag, in fiecare zi, de la Cluj!

Sunteți de departe cel mai bun post de radio creștin din România. Am peste "10,000 Reasons" să susțin afirmația. Domnul să vă binecuvânteze, RVE Timișoara!

Florentina Tifrea

02.05.2023

Dumnezeu sa va binecuvânteze 🙏🙏😘🤗

Fiți binecuvantati de Domnul pentru tot ce faceți 🙏setată pe RVE TIMIȘOARA, salutări sfinte din Viena 😊

Marcela Moscovciuc

06.02.2023

Zilnic cu bucurie ascultăm RVE Timișoara, deschidem atelierul și pornim radio, muzică de calitate, emisiuni utile și hrănitoare pentru noi, atunci cînd miinele lucrează, urechea ascultă și astfel sufletul e mulțumit! Dumnezeu să binecuvinteze toata echipa!

Doamne Fereste!

Este plin de reclame, în mare parte se aseamănă cu lumea. Să nu vă potriviți chipului veacului acestuia, sunt cuvintele Domnului nostru Isus Cristos. Faceți curățenie, scoateți reclamele. Cine se laudă să se laude in Domnul.

Beniamin Dragos

15.02.2022

Apreciez si Multumesc acestui post de Radio , Si Echipei care se implica in fiecare Zi, Bless!!!