Stand with Ukraine. Save peace in the world!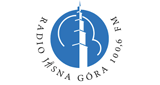 Radio Jasna Gora
Częstochowa, 100.6 MHz FM
W programie radia znajdują się informacje o wydarzeniach na Jasnej Górze, audycje o tematyce religijnej, społecznej, kulturalnej oraz transmisje z uroczystości religijnych i patriotycznych z Jasnej Góry.
Radio Jasna Gora reviews
Veronika Horoszkiewicz

02.07.2020

Dziękuję,,, ❤że jesteście❤.

Дякую

Jerzy Smakowski

13.10.2019

Coś wspaniałego naprawdę Jerzy Kościelny.

Agata Dymitrów

09.10.2019

Miło posłuchać super Bogu niech będzie dzięki.

Dziękujemy za miłe słowa i zapraszamy na naszą stronę:

Jerzy Auguścik

24.03.2019

pozdrawiam radio polskie z zagranicy wreszcie cos po polsku

Jakub Staszczyk

01.03.2019

Wkońcu normalne radio niż te zakłamane radio rydzyka

Alfred Nobel57

17.02.2019

Bardzo dobre radio. Dzięki Bogu

Piotr Augustyniak

31.01.2019

Dziekuje Bogu za Was, ….super!

dobre radio.