Stand with Ukraine. Save peace in the world!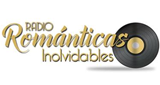 Radio Romanticas Inolvidables
Canciones románticas del ayer, recuerdos en español. Canciones Inolvidables de los años 60s hasta finales de los 80s.
Radio Romanticas Inolvidables reviews
excelente Programación!!

Pacorro Valdez

01.05.2023

Muy rica musica. Un saludo desde San Luis Potosí S.L.P. México

Moises Guerrero

26.04.2023

hola cordiales saludos,, simplemente bella música, felicidades por su execelente programación,, UN ABRAZO FUERTE DE CHIHUAHUA MÉXICO

Jose Luis Tenorio Fernandez

14.04.2023

EXCELENTE, FELICIDADES:

Fernando Antonio Alviarez Mendoza

10.10.2022

Muy bonita música, especial programación, desde Venezuela, Felicidades, Fernando Alviarez.

Norberto Salas

12.01.2022

Excelente programación, recuerdos inolvidables los escucho desde Palmira, Valle Colombia. Muchos éxitos en este nuevo año.

German A. Rondon

06.11.2021

super recordar exitos romanticos realmente inolvidadbles

liliana Monzon

26.08.2021

Los escucho todos las mañanas en mi trabajo. me gusta mucho. soy de Chaco, Argentina

Eduardo Patricio Rubio Machuca

15.04.2021

Excelente programación los felicito los escucho desde chile todo el día. .sigan así.. soy conductor de camiones me gusto mucho la radio me acompaña todo el camino todos los días,

Marco Herminio Cabrera Silva

11.02.2021

Me recomiendan Radio Románticas Inolvidables, por hacernos escuchar la música que nunca pasará de moda y espero ser su oyente frecuente. Soy de Loja, Ecuador.