Stand with Ukraine. Save peace in the world!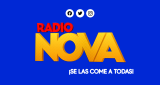 Radio Nova - Trujillo
Radio NOVA Trujillo se transmite en la frecuencia 105.1 FM, siendo una buena alternativa para toda la familia, amas de casa, hombres de campo, transportistas, jefes de familia, comerciantes, niños: con música, consejos, noticias y concursos para el sano entretenimiento.
TOP songs on Radio Nova - Trujillo
Radio Nova - Trujillo reviews
hola buen día saludos desde Lima para mi linda familia, pedro flor en el alto moches Trujillo

Karynaa Vidal R Z

09.04.2023

Saludos para cesar Ayala desde santiago Chile,,que. Esta de cumpleaños,,aquí escuchando la radio ,nova stero la radio que se las come a todas

Samuel Barreto Gomez

25.11.2022

Radio Nova, una radio diferente, con una programación diversa y entretenida. Saludos desde Abancay Apurímac Perú. Invito al público en general visitarme al canal de Youtube SAMUEL TE RECOMIENDA un Canal exclusivo de Herramientas Digitales Productivas que no debe faltar en tu Smartphone y Computadora. Nova se las come a todas

la mejor, buena musica

Franco Aldair Sosa Martínez

03.10.2021

lo mejor de lo mejor! Radio Nova! Está prendida!!!

Buena programación

Joseeugenio Sosa Yovera

08.05.2021

buena radio

Los mejores, los locutores buena onda, chéveres, super divertidos, pasan buena música que te hace bailar y cantar.

Pasan buena música. Unos locutores muy divertidos! Suena todo el día, las 24h eso es lo impresionante, programación variada, con un RANKING SEMANAL

Fans // Franco Sosa M.

29.03.2021

Muy buena, pero no está sonando RADIO NOVA, está sonando otra Radio.