Stand with Ukraine. Save peace in the world!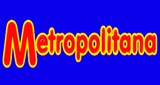 RADIO METROPOLITANA AREQUIPA
RADIO METROPOLITANA AREQUIPA señal digital ingresa a la modernidad , ahora con la nueva tecnologia de comunicacion DAB + para el Peru y el mundo; hoy 28 /01/2023 es un dia glorioso para las comunicaciones RADIO METROPOLITANA AREQUIPA se coloca a la par de las grandes cadenas radiales informativas .Bienvenidos a la programacion informativa , cultural , musical con los mejores periodistas del medio.
RADIO METROPOLITANA AREQUIPA reviews
Domingo Quispe

01.03.2023

Escucho este y otros programas desde el Cusco. Saludos. Saldrá nuestro programa Voces del pueblo?

LA ÚINICA RADIO ALTERNATIVA AREQUIPEÑA

La señal esta bien , se escucha claro mi estimado yo lo escucho desde el distrito de JAQUI prov.Caraveli dpto AQP

RADIO MAXIMA DEL PERU

28.01.2023

SOMOS RADIO METROPOLITANA 99.5 un medio informativo puesto al servicio de la comunidad Arequipeña gracias desde ya por su gran sintonia.