Stand with Ukraine. Save peace in the world!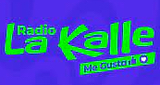 Radio La Kalle
Estación con propuesta de difundir los éxitos musicales de salsa y merengue, con artistas destacados como Olga Tañón, La Makina, Los Hermanos Rosario, y las novedades del mundo del espectáculo.
Show more
TOP songs on Radio La Kalle
Radio La Kalle reviews
Ελευθέριος Κυριαζής

11.02.2023

We Greeks love Peru, its people, and music

Hermenegildo contreras

02.12.2022

Es una. Buena y buena música mis hijos oscuros de león

Ricardo Baquero

20.07.2022

Hola amigos de La Kalle, me gustaría escuchar "Quisiera" de Oscar de León,reciban un salserísimo saludo desde Colombia, excelente programación.!un Abrazo!

Isabela Gonsalez

07.06.2022

Buen día señores de radio la calle su radio es linda con sus músicas de siempre no se que a pasado ya no hay pasillos boleros música andina por favor cambian la música a la siempre ya parece otra Rádio les agradecería un abrazo saludos de su fiel oyente.

Yrma Flor Ramos Terrones

08.12.2020

Bonita música del programa calle criolla, por favor me pueden pasar la relación de canciones del programa de hoy, de 12 a 12 :40.gracias y que sigan los éxitos

Rommel Cajavilca

24.09.2020

El sonido por Internet es muy malo. Está en MONAURAL, como en los años 50 del siglo pasado. Un buen técnico podría ayudar a enviar el sonido SUPER STEREO. Este sonido actual, arruina la excelente programación.

Buenas musica

Salvador Malca Ramos

17.05.2020

MUY BUENA MUSICA BONITOS RECUERDOS DESDE SANTIAGO DE CHILE ,SALUDOS PARA LA FAMILIA MALCA RAMOS ESPECIALMENTE PARAS MIS PADRES QUE ESTAN EN PERÚ LES DESEO LO MEJOR .

DESDE ESPAÑA UN SALUDO CORDIAL A RADIO LA CALLE QUE CON SU BUENA MUSICA EN ESTOS DIAS DE CONFINAMIENTO NOS ACOMPAÑAN CON SU BUENA MUSICA Y APROBECHAR PARA SALUDAR A LA FAMILIA ALCAS CHAUCA POR EL DIA DE LAS MADRES EN ESPECIAL A MI MADRE VICTORIA CHAUCA EN JOSE BOTERIN BENDICIONES Y QUE SIGA LA BUENA MUSICA.

Milagros Jimenez

19.04.2020

Aquí escuchando la buena música de mi radio la Kalle un saludo desde Chile un abrazo a la distancia para mi familia Jimenez Rodríguez, mi rey mi hijo Joseph del Rimac y mi esposo Manuel Rojas Rivera que esta en Canto Grande con mis bellos hijos Sofia y Alessandro decirle que todo este mal momento pasara y estaremos juntos los amo ..... Milagros Jimenez
Information about the radio
PROGRAMACIÓN:

• KALLE TROPICAL (TODOS LOS DÍAS DE 03:00 A 05:00 AM.)

Como para no dormir, disfrutando de la época de oro de la cumbia peruana. Además de lo mejor de la guaracha cubana y cumbia colombiana.

• LA KALLE DE TUS RECUERDOS (TODOS LOS DÍAS 05:00 A 08:00 AM)

Las emociones y pasiones de tu vida, despiertan cada mañana en "La Kalle de tus Recuerdos" con lo mejor de los Boleros, Pasillos y Valses.

• LA KALLE DE LAS ESTRELLAS (DE LUNES A SÁBADO DE 08:00 A 12:00 AM)

Los mejores recuerdos a ritmo de salsa y merengue de los 70, 80 y lo mejor de los 90 están en "La Kalle de las Estrellas".

• KALLE CRIOLLA (TODOS LOS DÍAS DESDE EL MEDIODÍA HASTA LAS 3 PM.)

Al mediodía el Perú sazona su almuerzo con lo mejor de la música criolla. Los Kipus, Lucha Reyes, Carmencita Lara y más, solo en Kalle Criolla.

• EL SWING DE LA KALLE (TODOS LOS DÍAS DE 3 A 6 PM.)

¿Entusiasmo y la alegría? Claro que sí! Y sobre todo buena salsa de los 70, 80 y 90 solo en "El Swing de La Kalle".

• RECUERDOS AL ANOCHECER (DE DOMINGO A VIERNES DE 6 A 9 PM.)

Lucho Barrios, Iván Cruz, Segundo Rosero y los mejores exponentes de la música del recuerdo.

• LOS CLÁSICOS DE LA KALLE (TODOS LOS DÍAS DE 9 PM HASTA LA MEDIANOCHE)

Todos los géneros de la programación, salsa, guaracha y merengue; con el fin de amenizar una noche bailable.
Radio contacts
Time in Lima: ,