Stand with Ukraine. Save peace in the world!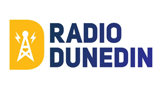 Radio Dunedin
The station is aimed primarily at the 40+ age bracket, with a community focus, local news, and playing music primarily from the 1960s to 1980s. It is rated number one for share of commercial radio listening in Dunedin in the Radio Audience Measurement Survey
Radio Dunedin reviews
Christopher Howes

12.09.2022

What happened to the MUSIC..??? To many ads...

Lots of cool music I injoy. I'm 60 and listening from Arrowtown

ROBERTO VERA SALAZAR

02.05.2021

From Chile, sud américa. The best radio station during my stay in Dunedin. Now I have been traying to listen very day. God talks,god music!!!Congrats kiwis!!!

Excelènt music such great memories

Laurie Griffin

24.12.2020

Thank you Bruce Kempton for the fantastic Christmas Eve easy listening.Brilliant.

Love the music good listening music

We just discovered your station. GREAT MUSIC! We will be listening in Ohio, USA.

My favourite station...the music I love!

Trace Steelgirl

30.06.2019

We took Radio Dunedin host Owen Rooney and his winning guests with special guest Phil (NZ Actor) from the Ad.......No Regerts...... and our lovely sponsors/Owners from the Careys Bay Historic Hotel Jo and Steve out on the beautiful Otago Harbour watching Race 5 of the Winter series Yachting. What a fab day and a great crew onboard. Good music and thank you all for your lovely company, another lovely boating Sunday on the Harbour.

Jeff Richardson

07.05.2019

My wife, pat and I (Jeff) love your station. We are in Hythe, Kent. UK.
Radio contacts
Postal Addresses: Private Bag 1957, Dunedin
Phone: 03 951 3600
Fax: 03 477 6873
[email protected]