Stand with Ukraine. Save peace in the world!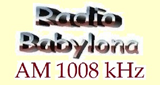 Radio Babylona
Musselkanaal, 1008 kHz AM
We zijn te ontvangen op de AM 1008 khz in Oost-Drenthe (NL), Zuidoost-Groningen (NL) en West-Emsland (D). De muziek keuze van ons bestaat voornamelijk uit Hits van aller tijden, dit is in het Engels, Nederlands, Duits en Instrumentaal. De genres zijn o.a. Pop, Rock, Country, Rock & Roll en Levensliederen.