Stand with Ukraine. Save peace in the world!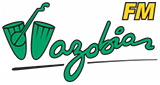 Wazobia FM
Wazobia FM is a radio station based in Lagos, Nigeria. It is owned and managed by Globe Communications Limited. Its team of presenters includes Twitwi, Kbaba, Igos, Kody, Buno, Ira, Tuebi and many others.
Wazobia FM reviews
EBILI DA AIRSON

30.08.2023

Takes away the pressure and keeps me going jah bless u all

Ifeyinwa Caroline

11.08.2023

The best

Nickgoods Sasa

12.02.2023

play this song pls My bro by jeriq

U re doing"well,,guy's.😎#wazo#50"™

Emmanuel Ogude

06.10.2022

my correct ogbonga radio fm wazobia... i beg i wan ask if e go dey possible make wazobia fm at least here from millions of nigerias concerning the presidential election make them speak their mind.

Please I want to serve at wazobia FM.. what do I do please. I am currently in camp

Idongesif Peter

29.10.2021

95.1 Wazobia FM it's the best station so far.....

i am indonesian and love this radio station, even i am in mexico now...i do love the afrobeats ooo

Abdulsalam Omotayo

10.09.2021

Please please please can u play me 911 by Holla zozah

I am amazed to hear you do not stick to your agreements with new artists but bend before a mogul who offers bullshit deals...very bad!