Stand with Ukraine. Save peace in the world!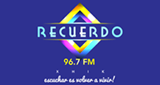 Recuerdo 96.7 FM
Es la radio con la mejor programacion, noticias, musica y entretenimiento que transmite en vivo las 24 horas del dia desde Durango.
Recuerdo 96.7 FM reviews
Me encanta escucharla mientras trabajo desde casita, saludos desde Houston texas! Muchas gracias!!

Excelente programación! Música que da alegria volver a escuchar , porque recordar es volver a vivir algún recuerdo feliz.

Juan Manuel Bermea Jakes

13.04.2021

¡Escuchar es volver a vivir!

Excelente programación, seria buena idea que transmitan por Facebook también 👍🏼

Antonio Araiza

15.09.2020

Viva Mexico desde la ciudad de Hampton en el estado de Virginia, muchas gracias por la muy bonita programacion y los Buenos locutores.

El Licenciado Sangrón

16.05.2020

Excelente catálogo y programación, buenos locutores.

Es una muy bella estación, yo la escucho desde que estaba muuuy jove, aunque antes se escuchaba solo en frecuencia am, espero que jamás la quiten, muchísimas felicidades hoy y siempre. 🥰❤️💁‍♀

Juanita Villarreal

20.03.2018

Me encanta esta estación de radio lo máximo en música del recuerdo gracias !!