Stand with Ukraine. Save peace in the world!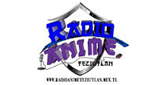 Radio Anime
Estación que transmite musicales con los mejores éxitos del género anime, que se combinan con la información y actualidad, novedades del espectáculo que difunde durante las 24 horas del día.
Show more
Information about the radio
Somos un grupo de jóvenes vanguardistas y profesionales comprometidos con cada uno de nuestros clientes, encargados de resolver sus necesidades y requerimientos a través de una solución integral personalizada, comunicación, medios y atención directa, lo que da como resultado un servicio de calidad.

Buscamos satisfacer las necesidades de comunicación y difusión de nuestros clientes mediante ideas innovadoras.
Radio Anime Surgió el 8 de Diciembre del 2011 con las ideas de 4 jóvenes entusiastas y emprendedores iniciando como Radio Online.

En la actualidad se transmite las 24 horas del día, los 365 días del año y Brindamos Servicios como Agencia de Publicidad y Radio Online con especialistas en cada Area Mercadologica.
Radio contacts