Stand with Ukraine. Save peace in the world!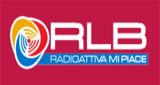 RLB RADIOATTIVA
RLB è un'emittente storica, tra le prime nate in Italia (nel 1976). Nasce come Radio Libera Bisignano e si colloca da subito ai primissimi posti nella classifica delle radio più ascoltate in Calabria. I radiofonici sanno che la radio è femmina, e come una bella donna ha bisogno di abiti nuovi e di vestirsi di primavera, per piacere, per piacersi. Radio Libera Bisignano diventa così RLB Radioattiva, una radio con nuove acconciature, nuovi colori, ma un'anima salda.
Show more
TOP songs on RLB RADIOATTIVA
Information about the radio
RLB Radioattiva è una radio che vive e crede nella musica, per entrare nella vita della gente, per scandirne i momenti più belli e per regalare allegria quando un ascoltatore è in riserva.

La gente ascolta la musica ed RLB Radioattiva ascolta la gente. Trasmette on air ed in streaming, ma scende anche nelle piazze, e con i suoi progetti itineranti, i tour, racconta la terra in cui vive, le sue potenzialità, da voce ai talenti, puntando il faro su quelle bellezze che meritano di essere raccontate.

Il suo format, capace di attrarre un'ampia utenza, è rivolto essenzialmente al target giovane, mettendo d'accordo genitori e figli.

Punto di forza, l'offerta varia di trasmissioni che, rigorosamente in diretta dalle 7:30 del mattino fino alle 21:00, offrono oltre ad un'accurata selezione musicale, un'informazione sempre dinamica, attenta al locale ed al nazionale, anche un ventaglio di trasmissioni interattive, giochi e programmi di servizio.
Radio contacts