Stand with Ukraine. Save peace in the world!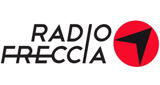 Radio Freccia
Un sound inconfondibile per Radio Freccia: la nuova radio per chi ama il rock fino al midollo.
Radio Freccia reviews
Roberto Dimaggio

30.06.2023

,

Super radio avec la meilleure musique rock

La mia favorita!

Michel Quiliano

15.06.2023

Rock per ogni gusto

Io sono di Argentina . Li ho scoperti durante un viaggio in Italia . Ora li ascolto online. Musica molto buona

Greetings from Hungary! Perfect radio station,every time I'm in Italy,always listening.I'm a truckdriver...

Eine Oase in der Wüste. Und Danke DAB+.

Константин Кубатин

03.01.2022

Пишу по-русски. Очень классная музыка на Radio Freccia. Ловлю вас через спутник Hotbird. Только одно - Вы совсем забыли ( мне так кажется, может я не прав) группу Nazareth.

Giorgio Missaglia

23.12.2021

menefreghisti che non comunicano la playlist!

Greetings from Latvia! Excellent music selection! Radio FRECCIA I found myself on my holiday trip in Italy, now I listen at home. Unfortunately I don't understand Italian, it would be interesting to listen to the comments.
Radio contacts
https://www.instagram.com/radiofrecciaof/