Stand with Ukraine. Save peace in the world!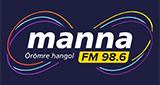 Manna FM
A Manna FM a budapesti régió új közösségi rádiója a 98.6 frekvencián. Pozitív hangvételű tartalmakkal, jó és friss zenékkel töltjük fel a napjaidat.
Show more
Manna FM reviews
Nagyon szuper a rádió!!!!!!

Krisztian Harsanyi

15.11.2022

Nagyon jó a radio!!!!!

Részemről topon van a műsor.

A retróban nem tudott Petra érvényesülni, mert Bochkor folyamatosan csesztette, milyen bugyi van rajta,előző este volt e szex és így tovább.. Ebben a adásban tapasztalható hogy Petra önmagában mire képes. Egészség, irodalom, életvitel,táplálkozás,Saját rovat, vagy csak tanács az egészséges élet vitelhez. jó hogy saját lábadra álltál ,és nem egy szellem árnyékában teszed a dolgodat mert ugródeszkának jó de másra nem.Csak így tovább .Harcolj,dolgozz,Ne add fel az egyéniséged! Jó egészséget

Szia brúnó van csajod? Vagy Laci?

Változatos
Information about the radio
A Manna FM erősíti a családi és baráti közösségeket, amelyek közvetlenül hozzájárulnak a társadalom boldogságához, a lelki és pszichoszomatikus betegségek, függőségek prevenciójához, valamint sokaknak megtartó, támogató közeget jelentenek. Pszichológiával, önfejlesztéssel, lelkigondozással foglalkozó műsorai konkrét segítséget jelentenek hátrányos helyzetben és krízisben levőknek, és preventív erővel bírnak.
Radio contacts
https://www.youtube.com/channel/UCF7roRFYMHmVhuIB81IDkZA